Based on the measurement, analysis and post-processing methods issued from the EPEA (www.epea.fr) innovative research project, NEXIO industrializes EMC near-field measurements with a 3D scanner.

Thanks to the capitalization of accumulated results during our participation in various research projects (EPEA, PCB, SEISME) NEXIO is the first company to have developed a complete range of products on near-field measurement.



This product range includes:
BAT-SCANNER: A 3D high-precision robotic measuring bench.

BAT-SCAN: An advanced control and near-field measuring bench automation software.

NFS Viewer: Dedicated software for analysis and post-processing of data measurement and near-field simulation.

With this new range of tools, NEXIO brings you real solution to reduce both your design and qualification time as well as the cards and electronic equipment maintenance.
The near-field scanner, BAT-SCANNER, can be piloted thanks to BAT-SCAN, our test automation software.


ADVANTAGES: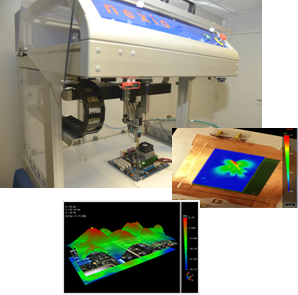 Design phase:


-> Locate and reduce sources




-> Positionning and routing optimization




-> Help with technological choices




-> Establish databases




-> Investigate EMI defects




Product life phase:
-> Check the non-regression
-> Manage obsolescence
-> Capitalize on experience feedback


Production phase:
-> Characterize leaks
-> Evaluate subcontractors and 2nd source
-> Control manufacturing